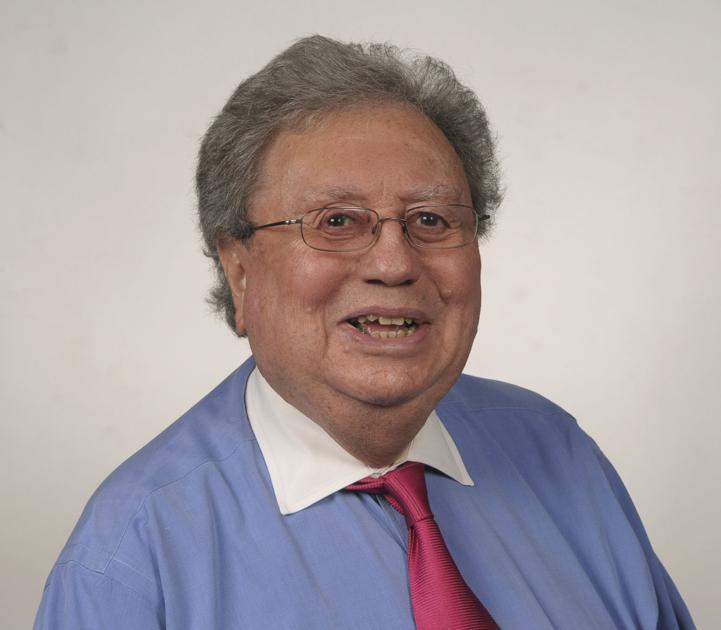 Tony Falterman, of Napoleonville, says, "The entry in your column about turning out the lights reminded me of my predecessor and good friend, Sheriff Murray Landry of Assumption Parish.
"He used to tell the story about a woman who called in one night about a loose monkey in her house. Never one to miss a good 'call in' complaint, he decided to handle it himself.
"In trying to capture the wayward simian, he would chase it around a room — but every time he got near a capture, the intelligent ape would jump up and pull the cord on the old-time light hanging from the ceiling in the middle of the room.
"Murray would pull the string to bring back light, and chase the monkey, until the monkey again pulled the cord and darkened the room!
"The sheriff finally called it quits, and told the homeowner he would be back during daylight hours for the capture!"
Getting weird
Looking over the item above, it occurs to me that the headline on it is probably the strangest I've ever written…
Umbrella and all
Riecke Gernon has this suggestion for a new name for Dixie Beer:
"What better way to honor the memory of Tom Benson than to have 'Tom's Boogie Beer?'"
Slight change
Bill Huey offers a new name for Dixie Beer that would call for only a minor alteration of its lettering:
"I believe they should rename it 'Dixon Beer,' in honor of Dave Dixon, the man who helped create the Superdome and the Saints."
Playing the Pastime
Fellow LSU Class of '63 graduate Norris Decoteau recalls Bill Conti, the Oscar-winning composer who just donated his original scores to the university:
"I was a resident of North Stadium at the same time as Bill. He and Buddy Wells from New Orleans were roommates.
"I wonder if he is also going to give his original scores from the Pastime Lounge, where the Bill Conti Trio played?"
Cord guy
Preston Holton, of New Orleans, says, "One night circa 1980 my girlfriend (now wife of 34 years) and I were in a packed Joe Reed's bar on Baton Rouge's Highland Road to hear legendary blues man Albert 'Ice Man' Collins.
"At one point Collins stepped off the stage in mid-jam and went wading into the crowd.
"Following him was a little guy carefully uncoiling a long spool of cord, out the door and into the parking lot, then finally back on stage.
"Ice Man never came unplugged and never missed a note, but the real star of the show was that cord guy."
Cajun Isles
James B. Hébert, of Abbeville, says, "The Cajun Islands mentioned Wednesday are in Vermilion Parish, the most Cajun place on earth.
"Visit Vermilion.org for ideas for your staycation. My ancestors have been here since 1802."
And Bo Bienvenu, of Prairieville, says, "I have a souvenir T-shirt (that fit until I put it in my 'shrinking closet') I bought at the Crawfish Festival decades ago.
"It shows two crawfish floating on air mattresses and says, 'For my vacation I visited The Islands: Cow, Pecan, and Forked.'"
Nostalgia Corner
Recently I've mentioned some Baton Rouge bars that are no more. Marion Denova tells of another longtime business that's closed:
"One of the oldest remaining businesses in Old Baton Rouge, Istrouma Mattress Factory, officially closed in mid-April.
"It was established in 1932 at the corner of Scenic Highway and Winbourne Avenue, then moved to Plank Road, in the old Goudeau and Huey Hardware building, in the early 1990s.
"We were open six days a week, except for four days we were closed because of Hurricane Katrina. Thanks to all our good customers in south Louisiana."
Special People Dept.
Betty Bourgeois, of Houma, celebrates her 90th birthday Thursday, July 2.
Sybil and Joe Boudreaux, of Ventress, celebrate their 71st anniversary Thursday, July 2.
Helpful hint
In health news, Harry Clark, of Lafayette, says, "I have found that if you don't shower but once a week, don't use deodorant, eat a lot of garlic and don't brush your teeth, social distancing takes care of itself."